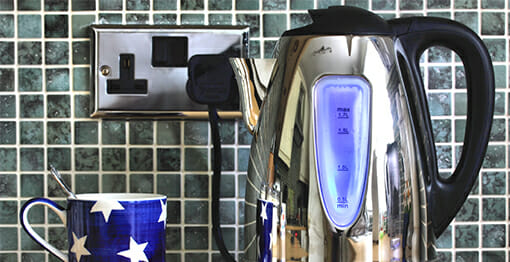 PAT TESTING
PAT Testing near you – UK Wide service. Your safety is our priority, Simple fixed prices, Call us today.
PAT TESTING NEAR YOU – YOU'RE IN SAFE HANDS
PAT Testing (Portable Appliance Testing) is the process of periodically testing your electrical appliances. It helps to ensure they are effectively maintained and safe for use within the appropriate environment, according to the manufacturers specification. It is a statutory requirement and many insurance companies require the insured to comply with all current regulations.
PTS Compliance only employs fully qualified PAT Test engineers. During our visit they may discover numerous faults within most workplaces so our engineers will replace damaged plugs free of any charges. Wiring the plug incorrectly or indeed dangerously can lead to serious injury of anyone coming into contact with either the plug or the appliance it is connected to and a wiring fault like this can easily cause fire and electrocution.
We will replace or repair this plug and make sure that it is perfectly safe for use afterwards – this is all included within our simple fixed price free quotation.
What our PAT testing services comprises of:
•  A fully qualified PAT testing engineer to visit your premises
•  Every item comprehensively tested with approved test equipment
•  Each item PAT tested will have a unique NIC EIC approved label
•  Full NIC EIC approved asset register and certificate
•  Incorrect fuses changed free of charge
•  Damaged plugs replaced free of charge
If you want your PAT Testing to be performed by an engineer who will arrive at the agreed time, dressed in a tidy uniform, perform their duties whilst causing the least disruption to your business and get all this for the price you thought it would be – call us today!
Download our handy PAT Testing guide for further information or read about the regulations surrounding PAT Testing here
GET IN TOUCH
We endeavour to reply to you within 2 hours during normal working hours.
Our handy guide to PAT Testing
• £89 minimum fee (Nationwide)
Our national coverage prices for PAT testing are simple; we charge £89 which covers the first 40 items we test. This fee covers our qualified engineers coming to your premises and carry out testing. Our quality assurance team will then create a personalised asset register, NICEIC and insurance approved certificate.
• £120 minimum fee for up to 40 items (London based)
For London based PAT testing our basic price for the first 40 items is £120 which includes exactly the same as above but allows for extra travelling time to your premises and any congestion charging we incur.
• Damaged plugs and fuses replaced for free

Any normal 230v household/office plugs which are damaged or non-complying, and any faulty or incorrectly rated fuses are replaced at no extra charge.
• Specialist plugs replaced at £9.99 each

Damaged or non-complying 110v yellow plugs (often used in the construction industry) are replaced at a cost of £9.99 each.
• No call out charges to travel to your premises

At PTS Compliance we do not charge call-out fees to travel to your premises to undertake work, however, parking fees may be charged if on-site parking at your premises is unavailable.
• Flat Rate fee from 60p per test
After the first 40 items we PAT test, we charge a low, simple, flat fee for each item we test thereafter. The flat fee's start from just 60p per test depending on how many you have, so give us a call today and see how much we can save you from your previous testing prices.

• Out of hours testing/servicing options available
Working around your business requirements is our skill, we will even work throughout the night if that suits you. For a bespoke PAT testing quotation for overnight work, simply call or email one of our Account Managers.
• Supply and fit of new plugs – just £3.99 each

Supply and fit of new 230v plugs, where none were fitted previously, are charged at £3.99 each.

• Microwave emission testing –
just £5.95 each.

Microwave emission testing involves checking seals for leakage and costs just £5.95 per microwave tested.

• Express or multiple certification options available
Need your certification urgently? We offer a same day certification option for an additional £10 charge, and are also able to offer multiple certificates or asset registers at extra charge (price on request).
OUR ENGINEERS ARE QUALIFIED, INSURED, DBS CHECKED AND SAFE CONTRACTOR APPROVED FOR YOUR TOTAL PEACE OF MIND