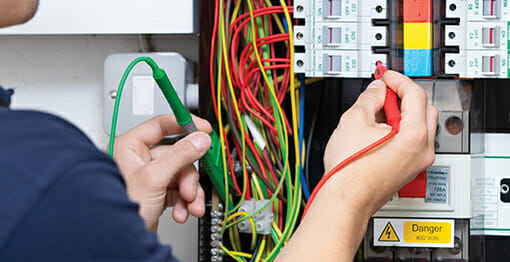 EICR Certificate
Electrical Installation Condition Report – This is the process that you need to regularly test your entire electrical distribution system to ensure it's full safety and compliance, not only to stay within current regulations, but to keep your staff and visitors safe.
WHAT DOES AN ELECTRICAL INSPECTION EICR CERTIFICATE COST
• Fixed and straight forward prices £8 – £22 per circuit
For Fixed Electrical Inspections (EICR), our prices are fixed and straight forward – we charge between £8 – £22 per circuit.
•
No call out charges to travel to your premises
At PTS Compliance we do not charge call-out fees to travel to your premises to undertake work, however, parking fees may be charged if on-site parking at your premises is unavailable.
• 
Out of hours testing/servicing options available
The engineers will work around your business requirements and will even work throughout the night if that suits you. For a bespoke quotation for overnight work, simply call us today to discuss your requirements with one of our Account Managers.
• Commercial and industrial testing from £349

We charge a minimum invoice of £349 for commercial and industrial testing.
• Domestic & HMO testing charged at these fixed prices:

• 1 bedroom dwellings – £149.00 (max 10 circuits *)
• 2 – 3 bedroom dwellings – £179.00 (max 15 circuits *)
• 4 – 7 bedroom dwellings – £229.00 (max 20 circuits *)
* Additional circuits will be charged at £12 per circuit thereafter
*Additional consumer boards within property are charged at £39
•
Express or multiple certification options available
Require an urgent certificate? we offer a same day certification option for an additional £10 charge, and are also able to offer multiple certificates or asset registers at extra charge (price on request).
BOOK TODAY
To book an EICR or to discuss your requirements further give us a call on 0800 644 5400, email us at [email protected] or use our contact form.
OUR ENGINEERS ARE QUALIFIED, INSURED, DBS CHECKED AND SAFE CONTRACTOR APPROVED FOR YOUR TOTAL PEACE OF MIND